Dit programmeerbare RGB-kleuren-LED-appelbordje is gemaakt van roestvrij staal met spiegelafwerking en RGB-pixellichten voor verlichting. Alle pixel-LED's zijn waterbestendig IP67 en de RGB Led-kleuren worden beheerd door een controller. Al onze LED-bedrijfsborden voor buitengebruik voldoen volledig aan de EU-normen en worden geleverd met 3 jaar garantie.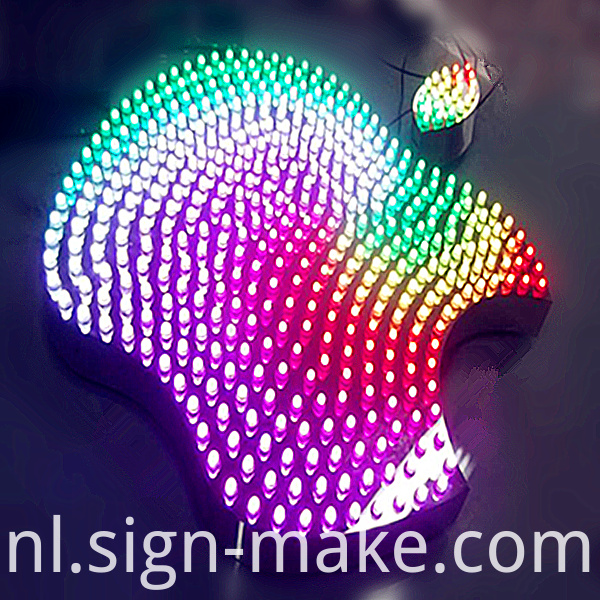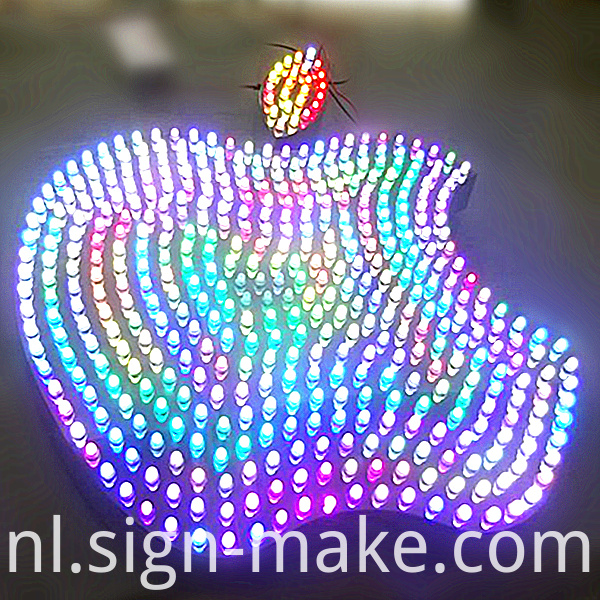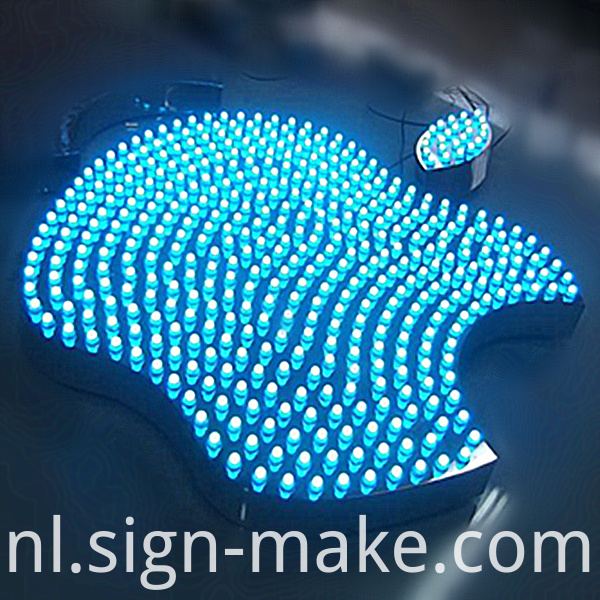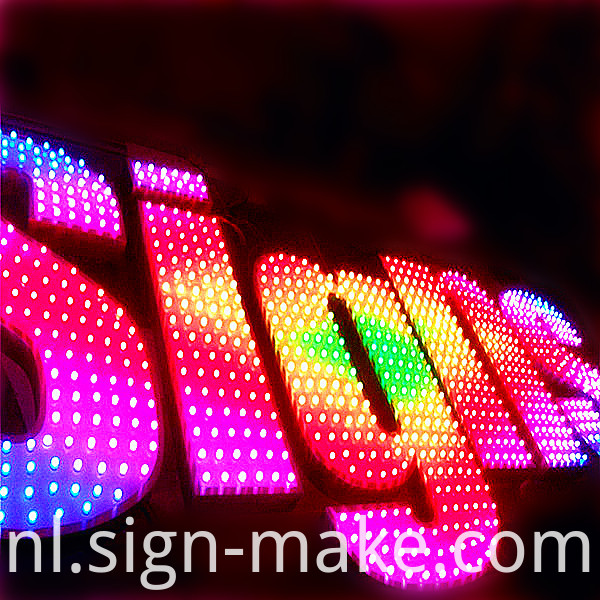 Elke letterstijl of kleuren (raadpleeg Pantone-kleurenkaart)
Retourneren van roestvrij staal of aluminium van 2 "tot 10"
RVS of aluminium steunen
LED-verlichting
CE, RoHS, SGS, UL-gecertificeerde LED en vermogens
110-240V input, 12V output

We bieden op maat gemaakte specificaties op basis van uw project.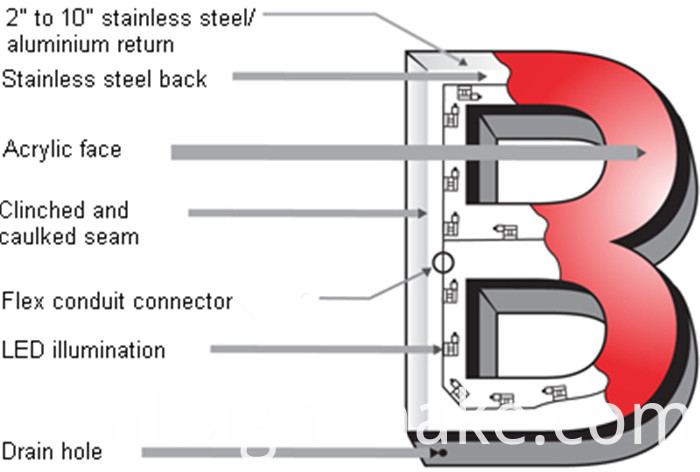 VOORAANZICHT
ZIJAANZICHT FLUSH MOUNT
Waarom Smart Sign
Het Smart Sign-bedrijf heeft zich sinds 2007 toegelegd op het aanbieden van een volledig assortiment led-signaleringsproducten aan onze klanten. De afgelopen tien jaar hebben we de meest bekende merken bediend, zoals SAMSUNG, LV, BURBBERY, PRA DA, APPLE, HUAWEI, G-STAR , Tiffany & Co., Mitsubishi, Hitachi, Toyota, Ford, Mercedes, BMW, Land Rover, Audi, Haier, Citibank, Panasonic, Swatch enz. Al onze tekenproducten voldoen volledig aan CE, UL, SGS, RoHS-toepassingen en wij bieden 3 jaar garantie. We exporteren wereldwijd naar Noord-Amerikanen, Zuid-Amerikanen, Europa's, Azië, het Midden-Oosten en Afrikaanse landen. De jarenlange ervaring in de signage-industrie leert ons dat "Quality Determines All" en "Cheap prices never never further" zouden zijn!
Wij zijn een professionele manufacutrer van alle soorten signage producten, waaronder LED-borden, LED-kanaal letters, metalen letters, acryl letters, verkeersbord, verkeersbord, veiligheidsteken, uithangbord, afrit teken, metalen bord, lichtbak, pylon borden, hotel borden en ADA-brailler-borden enz. Nu hebben we meer dan 5.000 vierkante meter fabriek en 70 medewerkers om u one-stop-sign-service te bieden op allerlei verschillende borden.
Maak een SMART SIGN en verlicht uw merken!
Fabriek en faciliteiten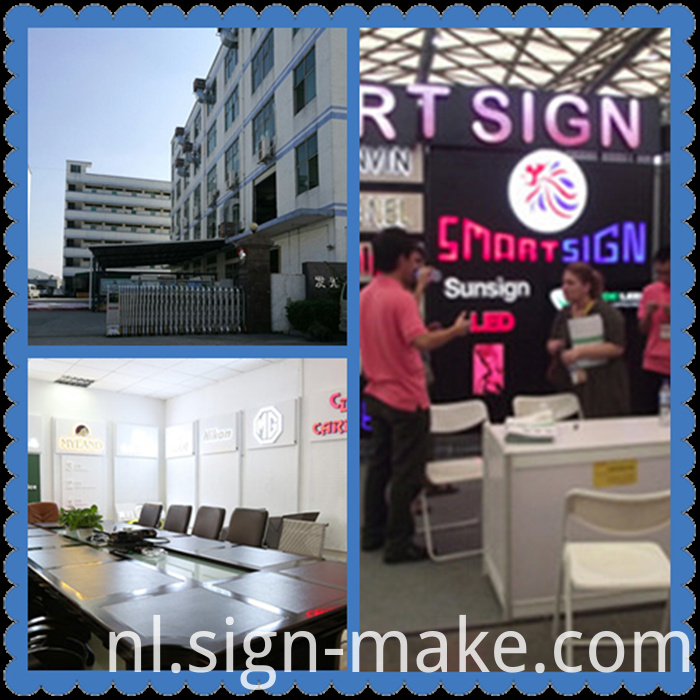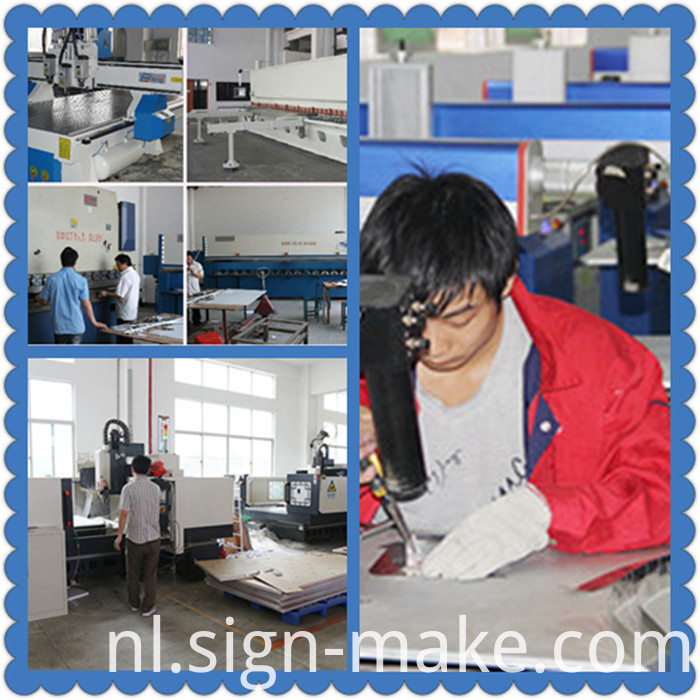 certificaten

Verpakken en verzenden
Product Categorie : LED Letters > Voorzijde verlicht LED Letters